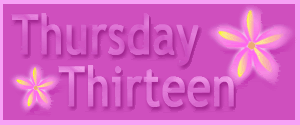 "THIRTEEN THINGS I DID WHEN I WAS NOT BLOGGING FOR A MONTH"
I made christmas cards.

I tried to baked some muffins ( not succesful!)

I baked some breads (hot pandesal in the Philippines) which is by the way very succesful!

Making christmas gifts for my friends

Baked some chocolate chip cookies.

Watching season 1 & 2 of Grey's anatomy.

Organizing my scrap materials.

Doing belly dancing. :)

Downloading christmas songs.

Decorating our Church with christmas decors.

Organized my daughter's room.

Surfed some recipes in the internet.

Watched this tele novela in You tube.